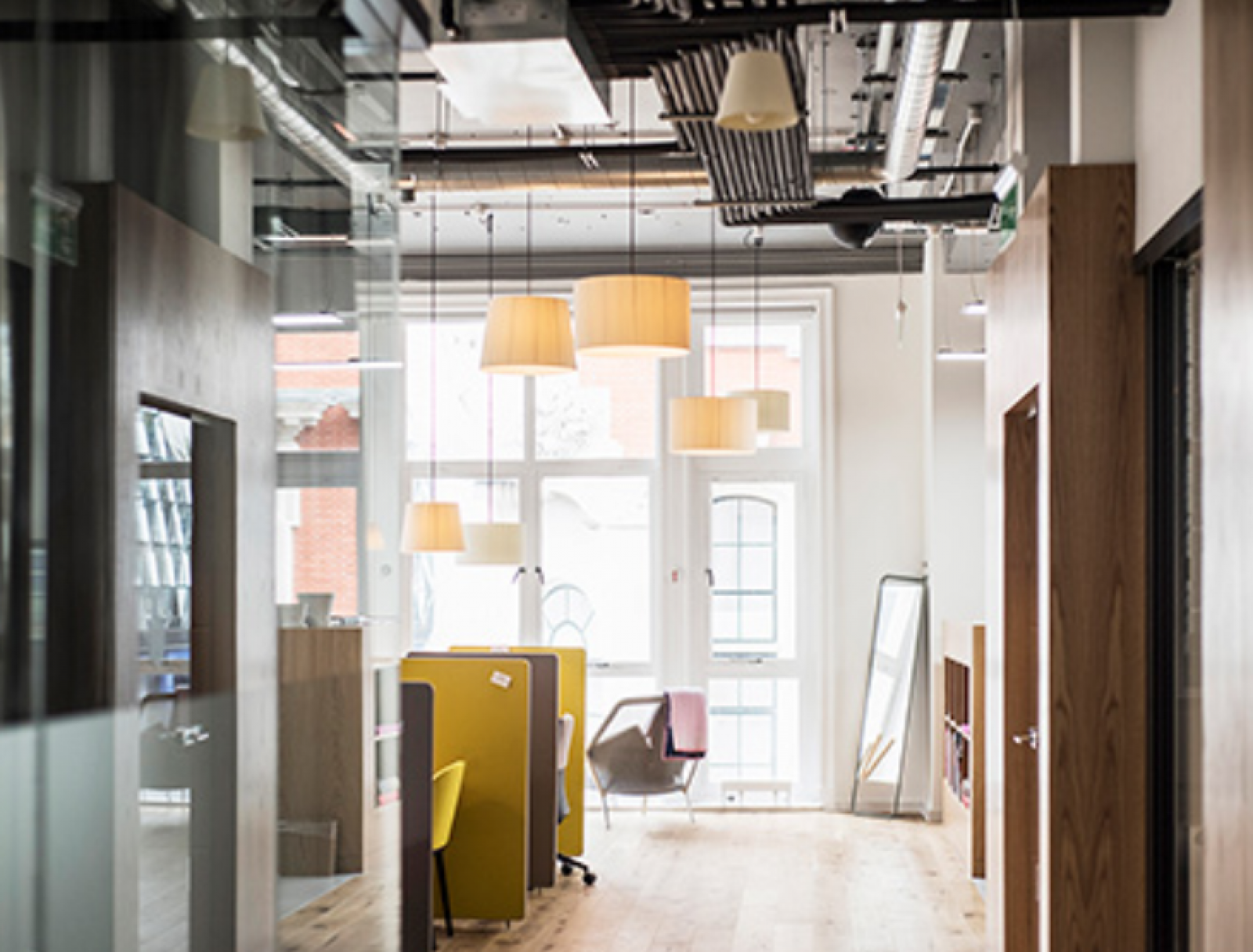 PRAGUE SMICHOFF
Part of an incredible redevelopment in the up-and-coming Smíchov district, Smíchoff is an ultra-modern flexible working location outfitted with the latest sustainable technologies including integrated chilled ceiling beams for energy retention. This highly efficient building, complete with LEED Gold green certification, offers spectacular views of Prague while you work. In any of the rental offices, co-working spaces or meeting rooms, you'll discover an inspirational space illuminated by natural light. It's the ideal location for professionals, creatives and entrepreneurs to meet like-minded individuals.
With its high-speed Wi-Fi connection, 467sqm of outdoor terraces and two levels of basement parking, it's easy to see why this is one of the most sought-after workspaces in Prague. It's ideal for commuters of all kinds, with nearby bus, rail and motorway connections. Cyclists will find this centre just as inviting, with 60 bike racks and showers on site. Outside the complex, the vibrant Smíchov area boasts an array of shops, a cinema and a number of cafes and eateries including the small but enticing CrossCafe and the chic KOBE FUSION Restaurant. The location is also perfect for visiting local attractions and green spaces, with Mrázovka and Husovy sady parks a short distance away, and the Futura Gallery O.s. Art Gallery and Railway Kingdom Rail Museum positioned perfectly for a lunchtime visit.
Office hours
We have non-stop 24/7 access.
Mon-Fri

08:30-17:00
Sat-Sun

closed-closed
December 2023
| mo | tu | we | th | fr | sa | su |
| --- | --- | --- | --- | --- | --- | --- |
| 27 | 28 | 29 | 30 | 1 | 2 | 3 |
| 4 | 5 | 6 | 7 | 8 | 9 | 10 |
| 11 | 12 | 13 | 14 | 15 | 16 | 17 |
| 18 | 19 | 20 | 21 | 22 | 23 | 24 |
| 25 | 26 | 27 | 28 | 29 | 30 | 31 |
| 1 | 2 | 3 | 4 | 5 | 6 | 7 |
January 2024
| mo | tu | we | th | fr | sa | su |
| --- | --- | --- | --- | --- | --- | --- |
| 1 | 2 | 3 | 4 | 5 | 6 | 7 |
| 8 | 9 | 10 | 11 | 12 | 13 | 14 |
| 15 | 16 | 17 | 18 | 19 | 20 | 21 |
| 22 | 23 | 24 | 25 | 26 | 27 | 28 |
| 29 | 30 | 31 | 1 | 2 | 3 | 4 |
Submit
arrange a free visit

Visit this place without any commitment to see if you like it

FREE

book now
You can find us here
Plzeňská, 150 00 Prague 5, Prague, Czechia