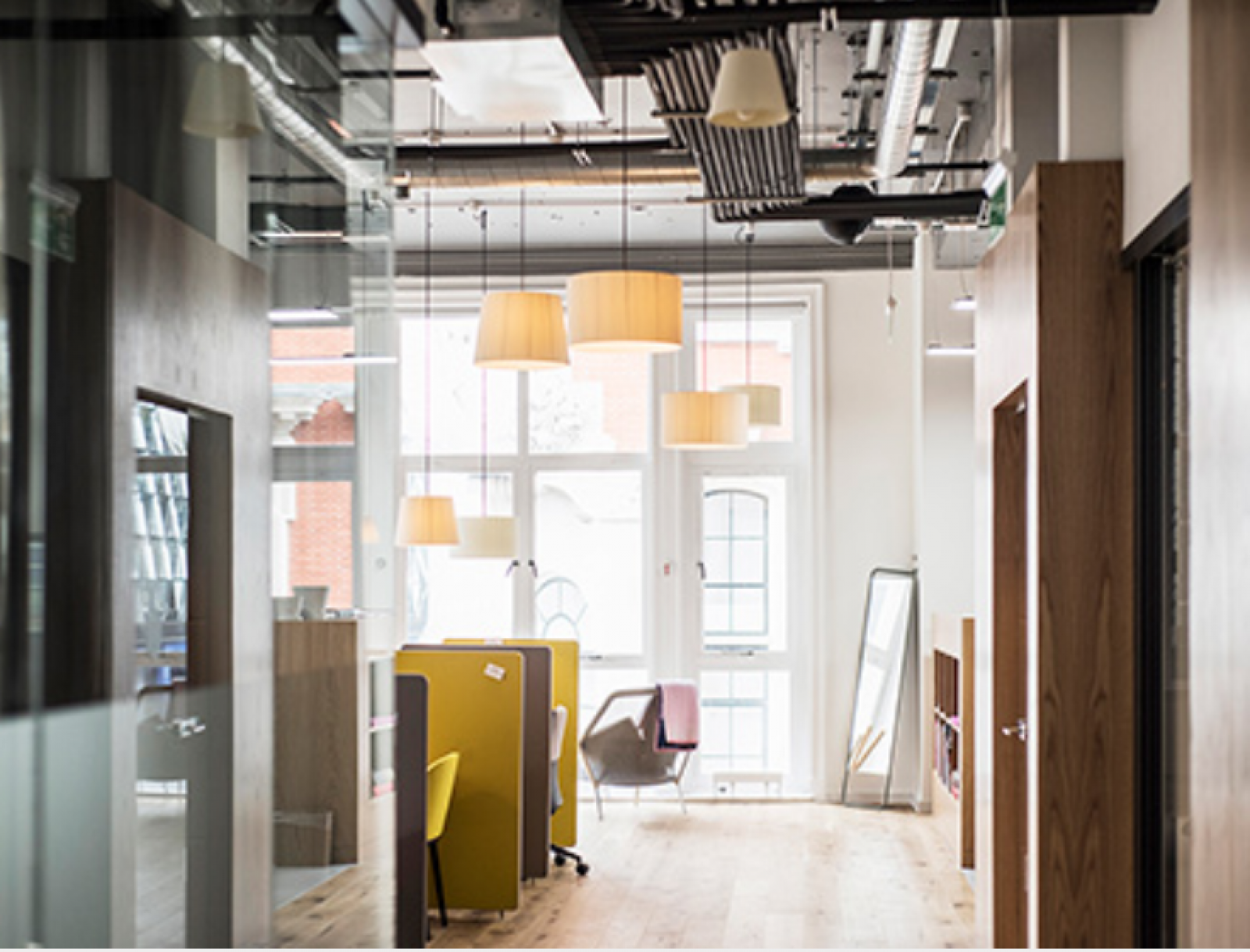 PRAGUE NILE HOUSE
Located on the edge of the Karlín waterfront, Nile House offers access to a dynamic work environment in a transformed industrial neighbourhood. Prague is a city of incredible buildings, and this unique location entices professionals with its striking central atrium. Surrounded by like minded-entrepreneurs sharing a passion for creativity, you're sure to thrive in this energetic and inspiring space.
Across the two floors of this fantastic centre, you can be at your most productive thanks to the variety of offices, meeting rooms and collaborative spaces – all with super-fast Wi-Fi connections and help from admin staff. Getting to and from this location couldn't be simpler, with secure car parking, and bus and rail links within walking distance. For lunch, Karlín's rows of chic cafes and restaurants are irresistible, with spots such as mamacoffee Cafe and Danubio Restaurant worth a visit. And the many nearby attractions and green spaces, such as the City of Prague Museum, Park Karlínském náměstí, and Trap As Mamas Holiday Park, provide opportunity to relax and unwind.
Office hours
We have non-stop 24/7 access.
Mon-Fri

08:30-17:00
Sat-Sun

closed
December 2023
| mo | tu | we | th | fr | sa | su |
| --- | --- | --- | --- | --- | --- | --- |
| 27 | 28 | 29 | 30 | 1 | 2 | 3 |
| 4 | 5 | 6 | 7 | 8 | 9 | 10 |
| 11 | 12 | 13 | 14 | 15 | 16 | 17 |
| 18 | 19 | 20 | 21 | 22 | 23 | 24 |
| 25 | 26 | 27 | 28 | 29 | 30 | 31 |
| 1 | 2 | 3 | 4 | 5 | 6 | 7 |
January 2024
| mo | tu | we | th | fr | sa | su |
| --- | --- | --- | --- | --- | --- | --- |
| 1 | 2 | 3 | 4 | 5 | 6 | 7 |
| 8 | 9 | 10 | 11 | 12 | 13 | 14 |
| 15 | 16 | 17 | 18 | 19 | 20 | 21 |
| 22 | 23 | 24 | 25 | 26 | 27 | 28 |
| 29 | 30 | 31 | 1 | 2 | 3 | 4 |
Submit
Your price plan is: 1x 1 Month Plan 04 Dec 2023 - 03 Jan
Available plans:

80 USD/1 Week

194 USD/1 Month Plan

arrange a free visit

Visit this place without any commitment to see if you like it

FREE

book now
You can find us here
Karolinská 654/2, 186 00 Karlín, Prague, Czechia