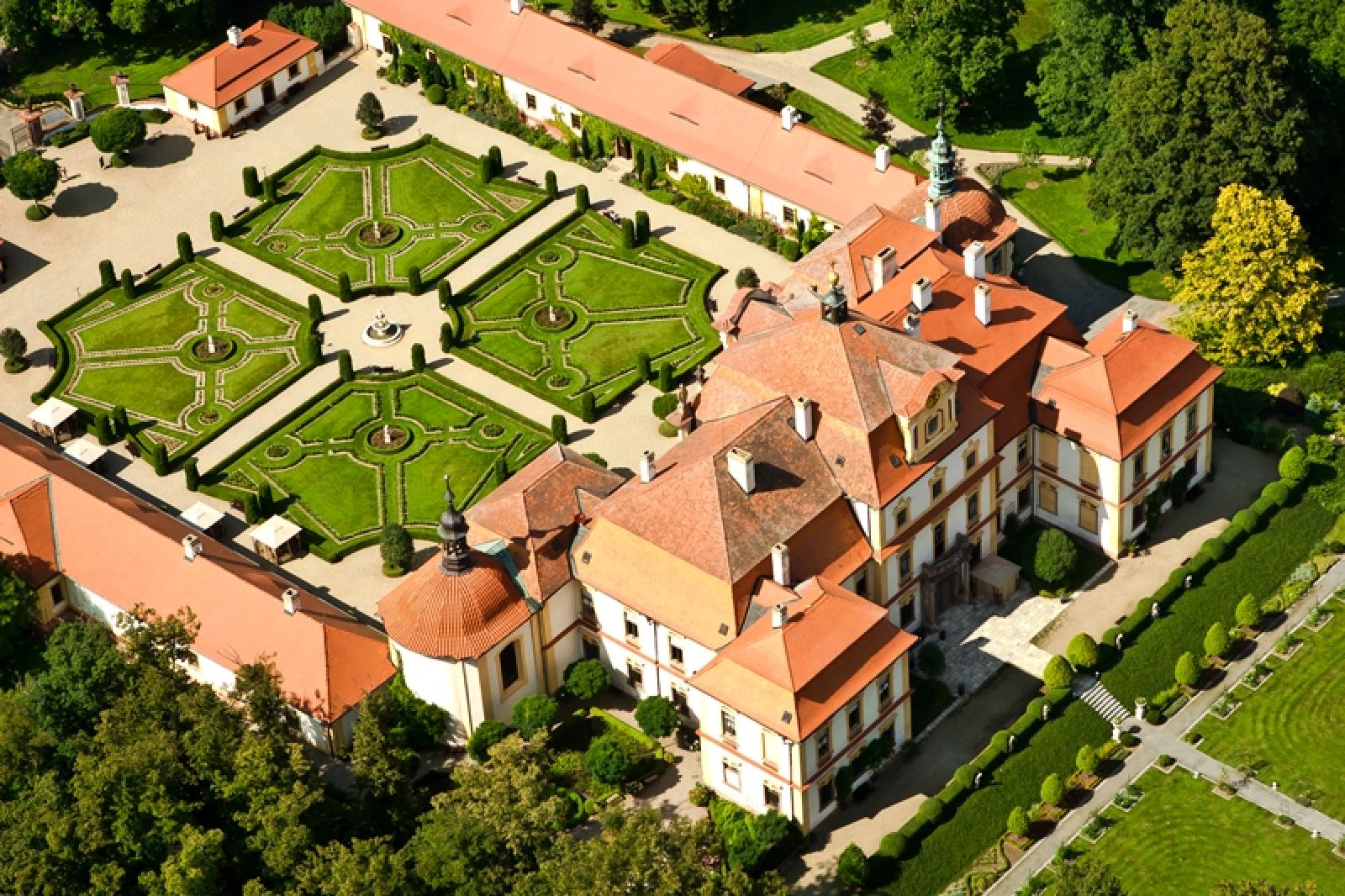 Castle coworking
CHATEAU JEMNISTE
The first news of Jemniště dates back to the year 1381. At that time the owner of the manor was Beneš of Cimburk, who started to write from Jemniště according to the name of the village located here. The manor of course was not this château but a fortress surrounded by a moat, which is located in the nearby village up to now (see old chateau). In 1717 the manor was bought by Count Frances Adam of Trauttmansdorff (+ 1762), originally from an old Styrian family. The château in the village did not suit his tastes and demands. That is why about the year 1724, he had a new château built on a nearby hillock. The new château better fit his taste and standing as a pre-eminent aristocrat.
Prices: Accommodation for 2 persons per night
Sunday – Friday 3 000 CZK
Weekends 4 000 CZK
This apartment is to be found in the chateau's side wing. It consists of a romantically decorated bedroom with a field bed, breakfast room, luxurious bathroom with a corner bathtub. Next equiped not only with historical furniture but also a fireplace. Your attention will be attracted by a lookout at chateau's precisely well-kept park. At night, you will be able to enjoy heart-warming views of the lit-up chateau and courtyard's fountain, during a day to listen to baroque music as well.
Size of the apartment: 55m2
Hallway, bedroom, living room, bathroom
Double canopy bed
Antique fireplace in the living room
Basket with firewood refilled daily
Comfortable bathtub for two people, including bathrobes
Complimentary DAMANA cosmetics
TV /SAT, LCD in the bedroom
WiFi
Hair drier
Cd player
Coffee station (Dolce Gusto, Nescafe), variety of tea
Minibar is daily filled (100% Becker´s Bester juices)
Breakfast served in a wicker basket to your suite
Multiple key-entry for the chateu gardens (rosarium, park, giarninetto, rockery)
Capacity of apartment Rainer – 2 people, extra bed possible ( CZK 1000, breakfast is not included.)
Equipment corresponds to **** standard.
Office hours
We have non-stop 24/7 access.
December 2023
| mo | tu | we | th | fr | sa | su |
| --- | --- | --- | --- | --- | --- | --- |
| 27 | 28 | 29 | 30 | 1 | 2 | 3 |
| 4 | 5 | 6 | 7 | 8 | 9 | 10 |
| 11 | 12 | 13 | 14 | 15 | 16 | 17 |
| 18 | 19 | 20 | 21 | 22 | 23 | 24 |
| 25 | 26 | 27 | 28 | 29 | 30 | 31 |
| 1 | 2 | 3 | 4 | 5 | 6 | 7 |
January 2024
| mo | tu | we | th | fr | sa | su |
| --- | --- | --- | --- | --- | --- | --- |
| 1 | 2 | 3 | 4 | 5 | 6 | 7 |
| 8 | 9 | 10 | 11 | 12 | 13 | 14 |
| 15 | 16 | 17 | 18 | 19 | 20 | 21 |
| 22 | 23 | 24 | 25 | 26 | 27 | 28 |
| 29 | 30 | 31 | 1 | 2 | 3 | 4 |
Submit
arrange a free visit

Visit this place without any commitment to see if you like it

FREE

book now
Photos
You can find us here
Zámek Jemniště 1