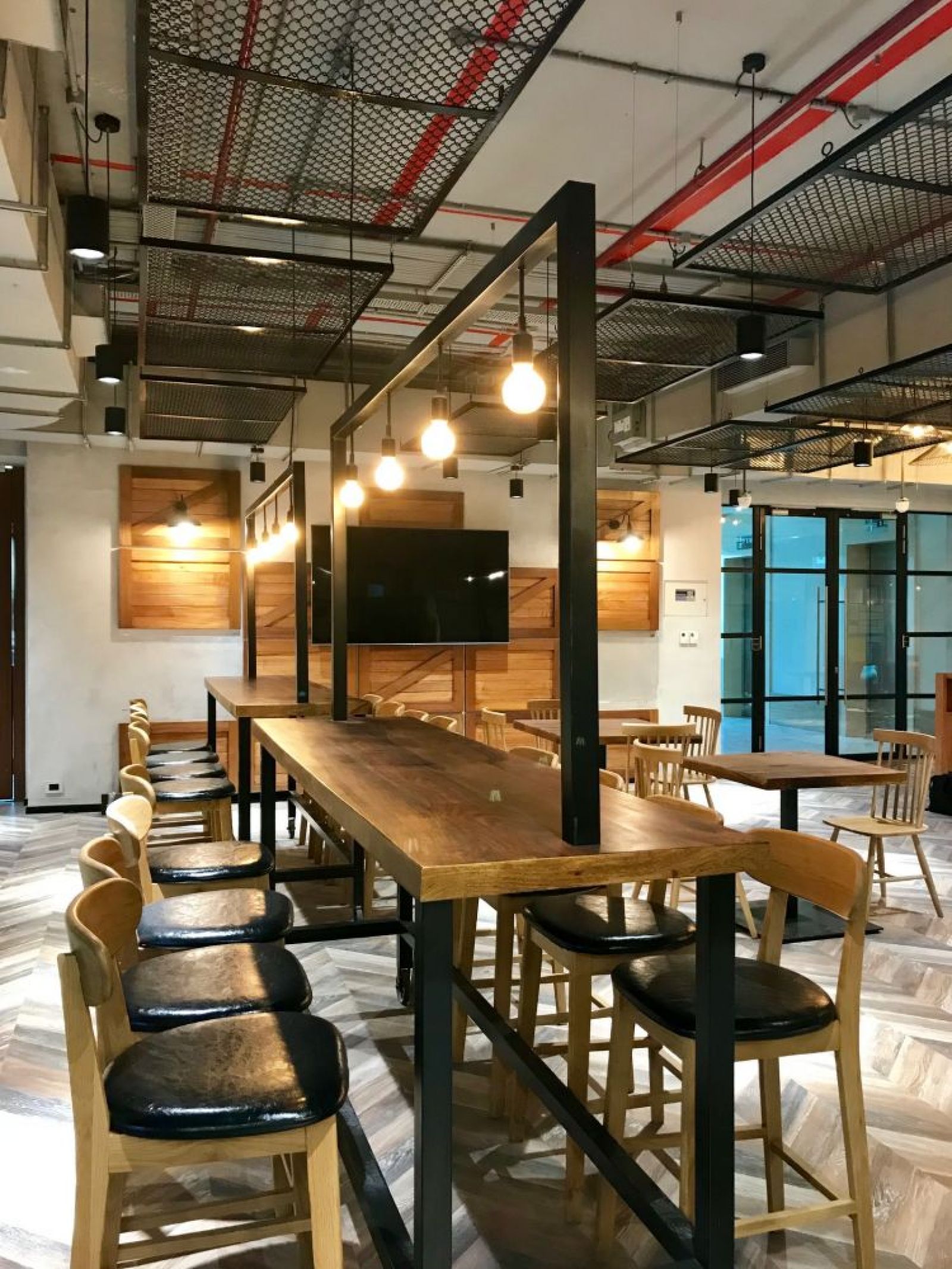 Sprawling over an area of 23,000 Sq. Ft., our BKC Awfice space boasts of plush industrial interiors. Strategically located in the iconic business hub of Bandra Kurla Complex, the centre offers a breath-taking view of the lush green Mumbai Cricket Association Stadium. Constructed meticulously it's a perfect blend of design and artsy aesthetics.
Our aim is to provide vibrant workspaces with well-defined collaboration area possessing comfy furniture, flexible settings for events, enclosed spaces with good acoustic facilities and easily reconfigurable meeting areas. The unique phone booths and meeting pods at every centre are capacious and provide open space for community members to conduct meetings.
This office is situated in the central business district of the western suburb and has easy accessibility by all modes of transport. It is in close proximity to Bandra & Santacruz (western railway stations) and Kurla(central railway station). Also, the centre is approximately an 8 Km drive from the domestic airport.
Backed by robust infrastructure, BKC is an important business hub housing plethora of multinational companies like Jammu & Kashmir Bank National Business Centre, National Stock Exchange, SEBI, NABARD Head Office, IL&FS, Amazon.com, Asian Heart Institute, Dow Chemicals, ICICI Bank, Citibank, Dena Bank, Bank of Baroda, State Bank of India, Bank of India, Kotak Mahindra Bank, Bharat Diamond Bourse, Unit Trust of India, Dhirubhai Ambani International School, American School of Bombay & Fortune 500.
This centre has a seating capacity of 423 people and the swanky Collab area with live counter, high tables, modular and plush seating can quickly make way for an entertainment zone. The seating plan includes premium cabins and flexible desk arrangements. Our collaboration zone consists of meeting lounges, pods and offers you the right activity based ambience fostering productivity. The fixed desk spaces and premium cabins offer pedestal storage, whiteboards and pin-up boards while flexible desk spaces are spread across a vibrant community table setup. Our highly secure workspace has CCTV coverage and allows entry only through NFC based access cards. Members have access to hi-tech infrastructure facilities that include video projection, video conferencing, high-speed internet and laser printing. Depending on membership plans, members get complimentary meeting credits which can be redeemed across meeting rooms in any Awfis location. Members also get tea, coffee and printing credits on a complimentary basis. We also have parking facilities for members. The café at the centre has a wide menu of food and beverages offered at very reasonable pricing. Our on-site community managers and centre team are available to help you with any requirements. We also offer options to work beyond office hours and on public holidays. You can also use our just-in-time booking through the Awfis mobile app. Renewing the shared workspaces as well as private cabins is also hassle-free. Not just this, every member also gets access to the Awfis Rewards program, where preferential offers from leading merchants have been curated especially for the Awfis community.
Rethink what an office can do for you – love being @ work!
Office hours
We have non-stop 24/7 access.
Mon-Fri

08:00-20:00
Sat-Sun

closed
June 2023
| mo | tu | we | th | fr | sa | su |
| --- | --- | --- | --- | --- | --- | --- |
| 29 | 30 | 31 | 1 | 2 | 3 | 4 |
| 5 | 6 | 7 | 8 | 9 | 10 | 11 |
| 12 | 13 | 14 | 15 | 16 | 17 | 18 |
| 19 | 20 | 21 | 22 | 23 | 24 | 25 |
| 26 | 27 | 28 | 29 | 30 | 1 | 2 |
| 3 | 4 | 5 | 6 | 7 | 8 | 9 |
July 2023
| mo | tu | we | th | fr | sa | su |
| --- | --- | --- | --- | --- | --- | --- |
| 26 | 27 | 28 | 29 | 30 | 1 | 2 |
| 3 | 4 | 5 | 6 | 7 | 8 | 9 |
| 10 | 11 | 12 | 13 | 14 | 15 | 16 |
| 17 | 18 | 19 | 20 | 21 | 22 | 23 |
| 24 | 25 | 26 | 27 | 28 | 29 | 30 |
| 31 | 1 | 2 | 3 | 4 | 5 | 6 |
Submit
Your price plan is: 1x 1 Month Plan 01 Jun 2023 - 30 Jun
Available plans:

10 USD/Day Plan

194 USD/1 Month Plan

arrange a free visit

Visit this place without any commitment to see if you like it

FREE

book now
You can find us here
Parinee Crescenzo, G Block BKC, Bandra Kurla Complex, Bandra East, Mumbai, Maharashtra, India (Parinee Crescenzo, 1B-102 or 1B- 1st Floor, G Block BKC, Bandra Kurla Complex, Bandra East,BKC,Mumbai,400051)